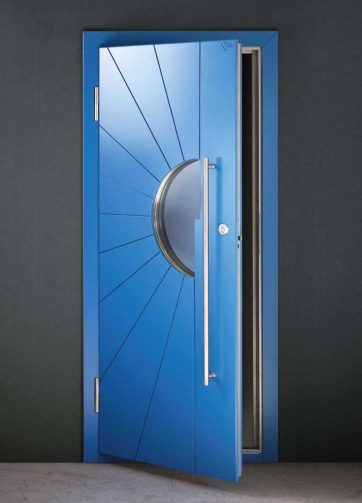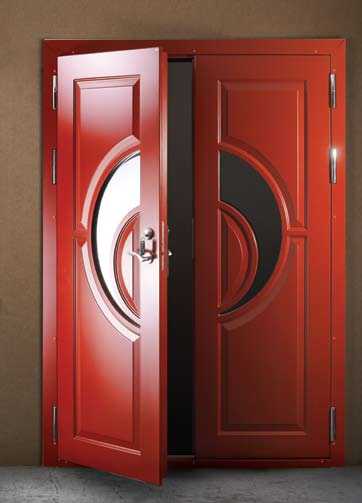 From the first glance, a SKYDAS STANDART 2 has no differences from an ordinary reinforced SKYDAS STANDART door but all its power lies inside – in the door structure. The price of this door is not significantly higher than the standard reinforced door, but it protects against both burglary and fire. At IFT ROSENHEIM, they were certified as the second safety class. The tests performed indicated that the SKYDAS STANDART 2 protects against fire for as much as 45 minutes, and withstands a temperature of 1000 °C. It is especially relevant in multi-apartment houses where fire may spread from the neighbouring compartments. In addition, this door provides excellent protection against smoke. The SKYDAS STANDART 2 door is most often installed in apartments, but it is perfectly suitable for outdoor conditions, by using a finish with impregnated UMIDAX-HLS board, and galvanised metal structure.
Other details about product:
Door frame – bended L-form profile.
Door leaf – special fire-protective metal construction.
Hinge with supporting beds, covered with chrome-plated finishing caps -2 items.
Cut protective roll pins for door hinges (Ø16 mm ) – 2 items.
Insulation seals – 2 items.
Additional fire protective insulation seal.
Eye hole Ø18 mm.
Outside and inside door finishing – MDF board, laminated with PVC.
Outside architrates – MDF board,laminated with PVC.
Main lock – ASSA.
Product specification:

| | |
| --- | --- |
|  Rating of sound insulation | 41 dB |
| Rating of thermal transmittance | 1,3 W |
| Resistance to repeated opening and closing | Class 5 |
| Indentification of resistance to wind load | Class 5 |
| Measurements of air permeability | Class 4 |
| Indentification of water tightness | Class 6A |
| Indentification of mechanical strenght and rigidity | Class 4 |
| Indentification of fire resistance | EI 45 |
| Indentification of burglar resistance | Class 2 |