With a total thickness of the external walls of the profiles which follows the most exigent demands of the quality standards and norms, class A exclusively (according to EN 12608), SOFTLINE 82 combines remarkable qualities of saving the energy with durability, stability and safety in usage. More than this, either we are counting modern buildings or old renovated ones or even the passive houses, SOFTLINE 82 fits to any architectural style, because of its permanent actual design.

Due to its basic installation depth of 82 mm, with 7 isolation chambers in the frame and 6 isolation chambers in the sash, SOFTLINE 82 is the PVC system universally suitable for new constructions and refurbishments assuring that the heat transfer is to an absolute low level.
Its excellent thermal insulation final value for each window (Uw up to 0,67 W/m2K) is achieved by an unique multichamber geometry, enabling you to save on energy costs.
The high-performance sealing system with triple gaskets shields off noise, cold, damp and draughts.
Proven steel reinforcements (following VEKA norms) have the size and the strength to guarantee safe functioning and burglar resistance.
The classic design with its elegant lines and slightly rounded contours blends in with any architectural style. SOFTLINE 82 can be easily integrated in any architectural project due to its portfolio of over 50 different RAL colors and wood finishes or even metallic foils. In addition to this, aluminium covers are available to this system, making possible a wide range for best integration of the color design in the particular style of the building.
Thermal insulation coefficient – U values
Uf = 1,0 W/m2K
Uw up to 0,67 W/m2K (according to the specific configuration, dimensions and glazing)
The maximal space for the glazing is 52 mm. All standard types of triple glazing and functional glazing up to 52 mm can be used
Sound insulation value up to Rw (C,Ctr) = 47 (-1;-3) db
Tested performances at IFT Rosenheim-Germany:
Wind resistance (according to EN 12210:2000): Class C4/B4
Water tightness (according to EN 12208:2000): Class 9A
Air permeability (according to EN 12207:2000): Class 4
Impact resistance (according to EN 13115): Class 1
Durability (according to EN 12400): Class 2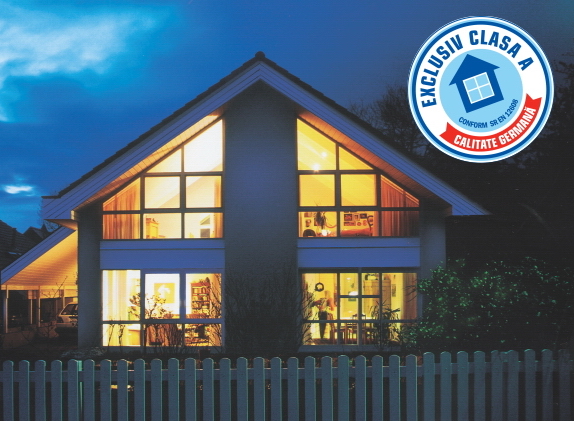 Opening possibilities

Available colors